Retour
Poème de Maude Abbott, 1909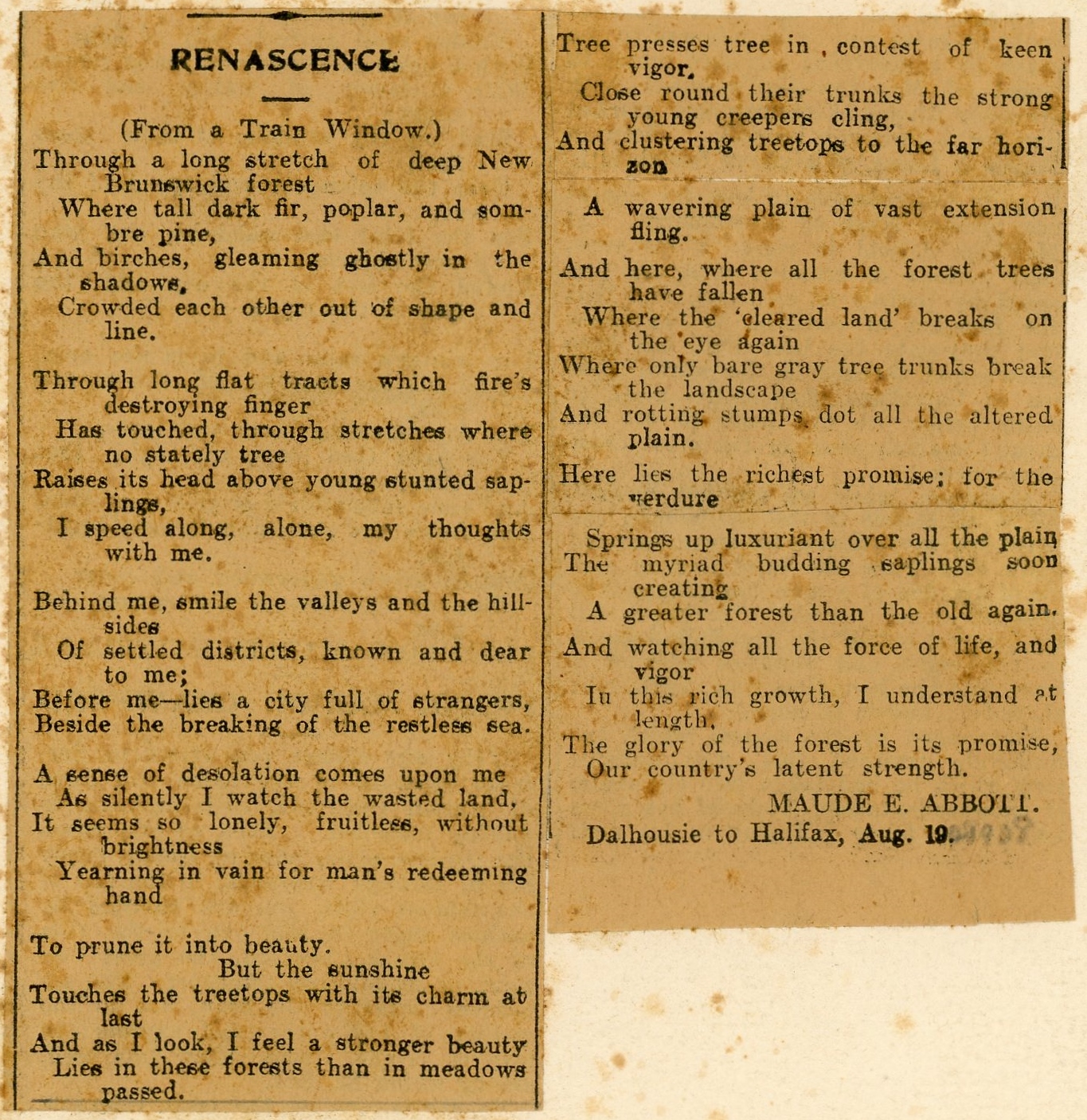 Source: Musée régional d'Argenteuil, Collection MRA, P29S01SS08D04P0222.
Poème Renascence rédigé par Maude Abbott à l'occasion d'un voyage en train reliant Dalhousie à Halifax, publié dans le Women's Edition of the Montreal Daily Witness, 15 mai 1909. Le poème va comme suit :
Renascence
(From a train window.)
Through a long stretch of deep New Brunswick forest
Where tall dark fir, poplar, and sombre pine,
And birches, gleaming ghostly in the shadows,
Crowded each other out of shape and line.
Through long flat tracks wich fire's destroying finger
Has touched, through stretches where no stately tree
Raises its head above young stunted saplings,
I speed along, alone, my thoughts with me.
Behind me, smile the valleys and the hillsides
Of settled districts, know and dear to me;
Before me-lies a city full of strangers,
Beside the breaking of the restless sea.
A sense of desolation comes upon me
As silently I watch the wasted land.
It seems so lonely, fruitless, without brightness
Yearning in vain for man's redeeming hand
To prune it into beauty. But the sunshine
Touches the treetops with its charm at last
And as I look, I feel a stronger beauty
Lies in the forests than in meadows passed.
Tree presses tree in, contest of keen vigor,
Close round their trunks the strong young creepers cling,
And clustering treetops to the far horizon
A wavering plain vast extension fling.
And here, where all forest trees have fallen
Where the cleared land' breaks on the eye again
Where only bare gray tree trunks break the landscape
And rotting stumps dot all the altered plain.
Here lies the richest promise : for the verdure
Spring up luxuriant over all the plain
The myriad budding saplings soon creating
A greater forest than the old again.
And watching all the force of life, and vigor
In the rich growth, I understand at length,
The glory of the forest is its promise,
Our country's latent strength.
Maude E. Abbott
Dalhousie to Halifax, Aug.19.